Next Book Club Meeting: July 14th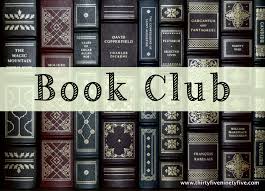 Library patrons from around the world gather together to discuss their thoughts on a variety of reading materials, from the standard and broad topic adult fiction books to very specific themed books such as cooking and baking, historical and religious topics, like the Civil War and Buddhism.
Our current book group began in the Spring of 2017 with a group of four readers.  This has expanded to a group of 12+ members today!  Throughout the year we have read a variety of fiction titles, including A Man Called Ove by Fredrik Backman, All the Light We Cannot See by Anthony Doerr, And Then There Were None by Agatha Christie, and The Nightingale by Kristin Hannah.  In this book club, the group meets once a month, normally on the second Saturday, to discuss the book of the month. At the conclusion of the meeting we decide which book to cover for the following month.