Beware of the Black Moon!
Friday, September 30th we will get to experience a somewhat unusual lunar event: a black moon. Sounds eerie, but it's really just the second new moon in a single month. We're all familiar with a full moon, it's the period when the moon's Earth-facing side is fully illuminated by sunlight. When the moon's Earth-facing side is fully in shadow it is called a new moon. We can't see the moon when it's Earth-facing side is in shadow, so you might be wondering why we don't call it a 'no moon'. The term new moon can be traced back to ancient calendars (some of which are still in use), which were based on lunar cycles. In those calendars, the new month begins the day the first sliver of the moon becomes visible. A new moon used to indicate a new month. Our next full moon will be October 15th. Our next new moon will occur on Halloween. It will be very dark on Halloween this year, so if you're trick or treating wear something that makes you easily seen and beware of what lurks in the darkness of the new moon.
Don't Miss the Library's Annual Quilt Raffle!
Do you have your tickets for the library's annual quilt raffle? They are available at the library for $2.00 each or 3 for $5.00. As always, Becky Jensen, did a beautiful job! You still have plenty of time to buy tickets because the drawing won't be held until October 5th. Don't hesitate – buy those tickets now!
Election Day is Tuesday November 8th.
If you're not registered, you still have time to register and exercise your right to vote. Your application must be delivered or mailed 25 days before the election, making the deadline to register Friday, October 14th. You can download a copy of the New York State Voter Registration Form here:
Voter Registration Form
. Remember, you can always print out a copy of this form at the library. Be sure to use only a blue or black pen when completing the form. If you are unsure of your status or unsure of your polling location, you can check both here:
Board of Elections.
Research Tools for Scholars of All Ages
Did you know your library card provides you with access to more than a dozen academic databases? Best of all there is something for scholars of every age.
Kids InfoBits
is designed especially for students in kindergarten through fifth grade. Another tool for younger students is
eLibrary Elementary
, it's a general reference database designed specifically to engage and guide young students. Older students will find the
National Newspaper Index
and the
Literary Reference Center
to be of great value. The complete list of databases can be found on the Southern Tier Library Systems website:
here
.
Put Google Scholar to Work This School Year
Google Scholar doesn't get a lot of hype, but it's a powerful tool.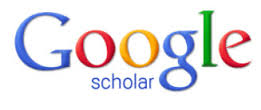 Google Scholar is a customized search engine and tool built primarily for students. With Scholar you can search journals, save sources to a personal library and get citations. Citations are available in MLA, APA and Chicago formats. Both title and content can be searched, even when the content is only available to subscribers. You may even find information residing in one of the Southern Tier Library System's many databases. In addition to searching journal articles, you can save articles to your own personal library, you can set up alerts so that you are notified when there are new results for a specific search term, read through case law, and get quick citations too. Take some time to get familiar with Google Scholar, you'll be glad you did. You can access Google Scholar at
http://www.scholar.google.com
Did You Know?
Most of us are fortunate to be enjoying a long weekend this September, as we celebrate Labor Day. It's a day that traditionally marks the end of summer and a return to school. The day has real historical significance too. In the late 1800′s, the average American worked 12 hours a day, seven days a week, just to get by. Young children, some as young as five years old, worked in mines, factories and mills, earning just a fraction of what adults earned. Working conditions were harsh and unsafe, and breaks were unheard of. As the Industrial Revolution started to take hold, labor unions started to appear. Organized laborers started to protest poor working conditions and excessive hours by organizing strikes and rallies. In 1882, 10,000 workers in New York City took an unpaid day off to march to Union Square. That march is recognized as the first Labor Day parade in our history. Oregon became the first state to recognize Labor Day as an official holiday in 1887. Labor Day became a national holiday in 1894.
Quote of the Month
"But now in September the garden has cooled, and with it my possessiveness. The sun warms my back instead of beating on my head … The harvest has dwindled, and I have grown apart from the intense midsummer relationship that brought it on."
- Robert Finch
Check Out Our Latest Book Review