Outstanding in the Rain: A Whole Story with Holes
, by Governor General's Award finalist, Frank Viva, is a wholly ingenious picture book that invites many repeated readings. In this deceptively simple tale, a mother and son enjoy a daytrip to Coney Island. The amusement park is humming with excitement, as they race down midway rides, stroll through boardwalk attractions and picnic on the beach.
With great aplomb, the spare, rhyming text employs oronyms (words that sound the same, but have different meanings), like "fork handles" and "four candles" and "night rain" and "night train". On the opening spread, the young boy cheers, " 'Ice Cream,' I say, my birthday surprise!" The word "cream" appears through a die-cut hole. A page turn reveals that "cream" has now become part of the word "scream" in the next sentence: " 'Oh no!' I scream, with tears in my eyes." Having dropped his frosty treat, the young boy wails in open-mouthed consternation while a dog eagerly laps it up.
Frank Viva's signature, striking graphic design features hand-lettered text and a limited palette of bright turquoise, chocolate brown, candy apple red and mustard yellow. Armchair tourists will delight in the panoramic scenes filled with cotton candy kiosks, Palm Reader booths and "Whac-a-Mole" games. One part picture puzzle and one part word game, Outstanding in the Rain is an outstanding accomplishment.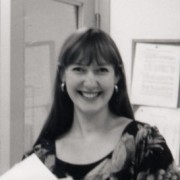 Our guest reviewer, Linda Ludke is a librarian at the London Public Library. Her reviews have appeared in Quill and Quire, School Library Journal and CM: Canadian Review of Materials. When she's not reading and writing she also loves searching for vintage treasures.
Some of our young readers might think the public library where Ms. Ludke is a librarian is in London, England. However in this case, London is in the province of Ontario, Canada. In the United States we have 50 states and the District of Columbia. In Canada, they have provinces, 10 of them, and three territories. London is located at the forks of the Thames River and was founded in 1836. The city's nickname is "The Forest City" because it was built in the middle of a forest. Do you know Canada has two official languages? Do you know what they are? You can see where London, Ontario is on a map by clicking here.
This review was made available by the National Reading Campaign, under a Creative Commons License. This book, like all others we will review, is available through the Prattsburg Free Library and the Southern Tier Library System.